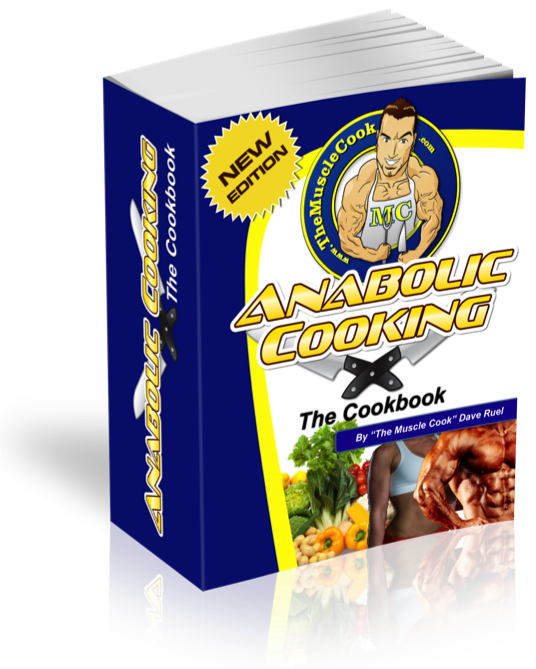 Looking to step your nutrition program up a bit? If so, the great news is there are some excellent programs out there that will help you take your nutrition from good to great. One such program we can recommend to you is definitely Dave Ruel's Anabolic Cooking.
Designed for both men and women, this product can help anyone (no cooking skills required!) prepare healthy and delicious dishes that make dieting much easier.
This program, as the title indicates, is designed to help keep you in an anabolic state, thus helping you build muscle as quickly and readily as possible.
How does it stand up? Will it allow you to see optimal results? Read on to find out more…
Who Is Dave Ruel?
Dave Ruel, also known as the Muscle Cook is a bodybuilder turned chef who aims to help those who want to transform their physique learn how to do so without eating bland, boring foods.
Dave Ruel is a competitor himself, so he's been through the grueling process of competition dieting as well as muscle building phases added between.
He's learned what works and what doesn't when it comes to building muscle mass tissue as effectively as possible. And, he knows just how important nutrition is in the big picture.
Without the right nutrition, seeing results will be next to impossible. Your diet can account for up to 75% or more of the results you see, so it's not something you can accord to miss out on.
He's designed Anabolic Cooking to make this easier for you.
What Is Anabolic Cooking?
So what exactly is Anabolic Cooking? This is a muscle building nutrition plan that comes complete with a number of great recipes that can be made using everyday ingredients that you already have in your house or that can easily be purchased at the local supermarket.
This is NOT an elaborate cookbook that's only meant to be used by those who have years of cooking experience. One thing that Dave Ruel prided himself on when designing this book is that most of these recipes can be created by those who are beginners to cooking.
While you will need to know how to boil an egg and perform related tasks, you definitely do not need to be a certified chef to use these recipes. What you do need is an interest in cooking and nutrition. If you are looking to build muscle, chances are you already have both of these in place.
One nice thing about Anabolic Cooking is that it isn't just a diet book or a recipe book, but rather, it combines both, giving you the best of all worlds. You'll receive information on how to structure and plan a diet to help build lean muscle mass tissue while also receiving over 200 recipes designed to help pack on lean mass.
These recipes are spread out into breakfasts, lunches, dinners, snacks, shakes, and desserts, so you'll have no shortage of options on what to prepare for every meal that you eat.
You'll also receive cooking and preparation tips to make your life easier. Since no one wants to spend hours each day preparing their meals, Dave Ruel has ensured that you can cook everything you need for this plan in less than 3 hours per week.
You'll also get his post workout nutrition secrets that help you recover faster than ever from the workouts that you are doing along with getting money saving tips to help you stick to a lower grocery budget. As many people say that the top thing that prevents them from eating right is the cost of doing so, this is definitely an important consideration.
Finally, you'll also get the details on what you should pick up to put in your kitchen for maximum results and get the need-to-know details on how to manage cheat meals along with your plan. When done right, cheat meals can help, rather than hinder your results.
The really nice thing is that you can get all of this for just $9 total, which in reality, is less than the cost of one fast food meal. The normal price of this book is $47, but he is now offering a one-time offer at this greatly reduced rate.
Who Should Consider Using Anabolic Cooking?
This product is perfect for anyone who is looking to do away with diet boredom and learn how to eat for muscle gain. If you struggle with nutrition and always seem to question what you are eating, you'll get the support and guidance you need when you invest in this book.
It can be used by both men and women, young and old. As long as you are old enough to cook, you can use this plan.
For just being here reading our review on Anabolic Cooking, we give you one of Dave Ruel's tasty breakfast anobolic recipe for you to try!
Ingredients
Directions
Nutritional
Makes for 1 serving.
Ingredients:
3/4 cup oatmeal
8 Egg Whites
1/2 scoop (15g) of Chocolate Protein Powder
2 teaspoons of Pure Cocoa Powder
1 teaspoon of Splenda
1 tbsp of Flax Oil
1 cup of frozen Blueberries
1/4 cup of water
Directions:
Step 1:
In a big bowl, mix All the ingredients (except for the frozen blueberries).
Step 2:
Cook in a microwave for about 3-4 minutes (cooking time vary from one microwave to the other) – stir the mix 2 minutes after cooking has started (so the mix doesn't stick or create chunks).
Step 3:
Once the mix is cooked, add the frozen blueberries, mix everything and enjoy!
Nutritional Facts: (Per Serving)
Calories: 580
Protein: 52g
Carbohydrates: 57g
Fat: 16g
If this recipe is enticing enough for you, then get hold of the entire Anabolic Cooking eBook today!
What You'll Get When You Order Anabolic Cooking in a nutshell!

As crazy as it may sound, for just a mere $9 (very limited time special offer) you get all the components listed below, plus you'll also qualify to receive any updates that are done to the program for life. This way you are never out of the loop.
Price may resort back to $47 when the limited time offer is over which is still sold at an incredible discounted price! Do the maths!
Anabolic Cooking – The Cookbook

Anabolic Cooking – The Cookbook

($147 Value) – This is the cookbook that will teach you how to make your own mouth-watering meals that will once and for all give you the opportunity to get the results and the body you deserve!

This book is packed with more than 200 "Anabolicious" recipes that are:

Absolutely Delicious
Designed to Enhance Muscle Building
Promoting Fat Foss
Healthy for you and all your family
Easy to make and that you can prepare in minutes

Anabolic Cooking will turn you into the cook you never thought you could be…Whether your goal is to build lean muscle mass, lose body fat, stay fit, perform better or simply be healthy, this cookbook is a must-have in your kitchen!

The Complete Nutrition & Cooking Quickstart Guide

The Complete Nutrition & Cooking
Quickstart Guide

($57 Value) – The Complete Nutrition and Cooking Guide is loaded with precious information that you must know about bodybuilding and fitness and to master the art of cooking for real results.

It is called "Quick Start" because I wrote this book in a very simple manner and will allow you to get started in no time…

In the Complete Quick Start Guide, You will learn:

Exactly What's in your food and what to look for
The anabolic cooking and nutrition fundamentals
How to read a recipe, the different cutting techniques and cooking methods, completed with the Anabolic Cooking Glossary
How to prepare a week's worth of meals in 3 hours or less
The tactics and secrets of post-workout nutrition
My top money saving and grocery shopping tips
How to build your Anabolic Cooking Kitchen
How to manage your cheat meals effectively

Everything you need to know to be successful with your nutrition is covered in this book!

Anabolic Cooking Meal Plans For Lean Muscle Mass Gains

Anabolic Cooking Meal Plans

For Lean Muscle Mass Gains

($97 Value) – "Eat more,more and more!" I am sure you have heard it a thousand times before from your local gym "experts". But nobody has shown you exactly what to eat and in what amounts! And, in your efforts to build muscle, you just end up gaining body fat…

Now you don't have to worry that bulking up means eating fatty foods. These meal plans will give you a sample of what to eat gain lean muscle mass and examples that will help you to design your own meal plan using your favorite recipes.

I designed those meal plans using my advanced nutrient breakdown approach that will guarantee optimum muscle growth.

Anabolic Cooking Meal Plans For Optimum Fat Loss

Anabolic Cooking Meal Plans

For Optimum Fat Loss

($97 Value) – These complete "no-brainer" meal plans that tells you exactly what and when to eat to burn that stubborn body fat… all that backed up my best nutrient breakdown strategies for optimum fat loss.

These sample meal plans will be your new guidelines to design your own personalized meal plan… And, the great thing is that you can choose from more than 200 recipes… I can guarantee you that it will be the best tasting "diet" you will ever come across!

Burning Fat can't get any easier than that!

Optimum Maximizer Advanced Calorie Calculator

Optimum Maximizer Advanced Calorie Calculator

($37 Value) – Eating the right amount of calories and have the right nutrient breakdown is critical to achieve muscle mass gains or lose body fat.

That's why I have created this easy to use calculator. Just enter your details and my "Optimum Maximizer Calorie Calculator" will do the rest.

Calculating your resting metabolic rate, caloric cost of activity or thermic effect of food can be very confusing. I have programmed this calculator with very advanced formulas that I will give you the most precise results and numbers specific to you, your body and activity level.

Anabolicious Post Workout Shakes

Anabolicious Post Workout Shakes

($27 Value) – Your post-workout nutrition is extremely important. After you've finished working out, your body needs protein, carbohydrates, and various nutrients to replenish your energy and to begin repairs.

Those Anabolicious PWO Shake Recipes will provide your body all the precious nutrients you need while tasting great.

The Ugly Truth About Supplements

The Ugly Truth About Supplements

($17 Value) – It's the ugly truth: most supplements don't work and are overhyped! But behind all the BS, there are some legit supplements that actually do work.

In this exclusive report you'll learn all the dirty tricks supplement companies use to steal your hard earned money. Also, I will give you access to my own supplements collection to see what supplement (even exact brands) I personally use to build more muscle mass, burn fat and stay healthy.

Anabolic Cooking Training And Food Log

Anabolic Cooking Training And Food Log

($17 Value) – It's a proven fact that keeping a journal and logging your experience with any nutrition plan and training program increases success rates and overall results exponentially.

Literally everyone I know who has a made a dramatic change to their body has done this. This workbook makes the whole "recording" process easy with daily log sheets. A very valuable tool when it comes to getting the most out of your nutrition and training.

Unlimited Updates For Life

Unlimited Updates For Life

($47/year Value) – You will never need to surf the internet ever again for tasty recipes. This is your last stop! Once you come on board I will be with you for the long term in continuing to make this cookbook and complete nutrition guide better even more complete and keep improving its content.

I'm dedicated to make sure you'll never be out of "Anabolicious" recipes and remain up to date! Whether updates are made in 6 months, a year of even 10 years from now… it's still free for you.
Testimonials
Honore before and after

"From not being able to fallow a meal plan to Pro Fitness Model"

"Before i was able to reach the pro ranks in fitness modeling, I really got out of shape and I knew I needed serious help. My problem was that couldn't keep up with a fitness meal plan for more, than 2 or 3 weeks at a time, I was quickly getting bored and going back to my old habits. And, even though I was working out everyday, I couldn't see any real results.

Dave Ruel then introduced me to his nutrition philosophy, and I started using his recipes and meal plans. I got back in shape in no time and was able to start competing in fitness modeling Honoré Levesque, Before-Aftercompetitions. I couldn't believe how easy it was, I never felt like I was 'dieting'."

Honore Levesque Pro Fitness Model
Martine currently

"Having a book like Anabolic Cooking on hand makes it easy to maintain my physique all year long"

"When I started competing in figure, I was not very familiar with the kind of recipes that would add taste to my meals as I would simply cook as simple as I could; such as a plain chicken breasts and vegetables in the microwave, which became very boring after a while.

Then, I began to listen to Dave's tricks and advice in order to make my meal plan interesting, and now his tasty recipes are a must in my nutrition plan as it gives me something to look forward to during contest season. And, it's now easier to keep on track during the off season, I get less cravings for sweets and fast food meals and most importantly, I remain happy with my physique.

If you want to create your dream physique, it's very important to be on top of your nutrition. In my case I have to be very strict year long and having a book like Anabolic Cooking on hand makes it easy to maintain my physique all year long. No matter what your level of fitness is, this cookbook is a must-have if you are serious about your goals."

Martine Thebeau
National Level Figure Competitor, Canada

Fabio currently

"I am using Dave's recipes in my restaurant"

"Being the owner and chef of an Italian restaurant (Portofino Ristorante), I know all about good and tasty recipes. However, because I am also a competitive bodybuilder, my food choices are very specific…

When I first got my copy of the Anabolic Cooking Cookbook, I was so impressed with how good Dave Ruel's recipes were that I decided to use some of them in my restaurant. My customers love them and always come back. They know that they will be served a healhy meal every time.

Honestly, this cookbook is a masterpiece! Recipes are ridiculously easy to prepare and you'll be able to create gourmet meals in no time!

And personally, as a bodybuilder, this book allows me to stay ripped year-round and make incredible lean muscle gains

Dave, from one chef to another : Thank You !"

Chef Fabio Scichilone
Bodybuilding Champion and Restaurant Owner, Moncton, Canada

Lisa currently

"Anabolic Cooking has made it so easy for me to achieve my goals, to be healthy, and to set an example for my children"

"As a single mom of two, a successful business owner, and fitness enthusiast (won the NLABBA figure competition for three years running), I found myself struggling to come up with a healthy variety for my meals and to stay on top of the "meal planning". Well, Dave just solved this problem for me and in fact i would d like to say that a cookbook like this is long overdue and super exciting.

I now have the most valuable cookbook right at my fingertips. Anabolic Cooking has made it so easy for me to achieve my goals, to be healthy, and to set an example for my children. Lisa with her son and her daughter

We all need the tools to know how to eat well so we can live our best life. Having this cookbook with tons of super easy recipes, information and support is amazing. I'd sincerely like to thank Dave for this wealth of information and for making my life easier!"

Lisa Woolgar
Grand-Falls, Newfoundland

Remi currently

"I am now saving money, time and getting great gains!"

"My diet was becoming boring and tasteless, until I picked up a copy of the book. Now, I can enjoy my food again. Thanks to Dave's tips and recipes, I am now saving money, time and getting great gains!

There is a reason this is considered the best cookbook for bodybuilding and Fitness of all time! This book made it so easy to get my diet on track and everyone know this is one of the most important parts of training.

This book should be part of everyone's muscle building and fat loss toolbox, period."

Remi Robichaud
New Brunswick, Canada

Lucas before and after

"If you want a ripped 6-pack, you have to eat te right food! And to make the right food tasty, you have Anabolic Cooking!"

"My dream was always to be a fitness model… I used to do some modeling, but I really wanted to combine it with my passion for fitness.

But, just like most people, my nutrition knowledge was poor and my cooking skills miserable. My diet was boring and to be honest, absolutely disgusting! So I decided it was time for me to change!

If you want a ripped 6-pack, diamond delts and big biceps, you have to eat the right food! And to make the right food tasty, you have the Anabolic Cooking Cookbook. I have learned so much with this book that I was able to transform my body completely, get that 6-pack and become a fitness model. And believe it or not that's now what I do full time!

With his book, Dave Ruel changed my life, and he will change yours too!"

Lucas Couturier
Ottawa, Ontario

Sandrella and Adam currently

"This book is perfect for our lifestyle as competitors and parents"

"Being competitors in bodybuilding and fitness, but also new parents to a four month old, we often put our little girls's needs in front of ours. I stay home to take care of her while my husband goes to work. It's easy to neglect the basics, like healthy eating. Who has time to cook an elaborate meal?

That's why I like using recipes found in "Anabolic Cooking". Not only are these recipes awesome to get in great shape, but they are also healthy, easy to prepare mealAdam & Sandrella options for a busy mom like myself.

This book is perfect for our lifestyle as competitors and parents!

And with such a wide variety of meal ideas, my husband and I are excited to try out different recipes depending on what we are in the mood for. I hope you and your family enjoy this book as much as we do!"

Sandrella Mohanna & Adam Aulenback
Bodybuilding & Figure Competitors, Halifax, Canada
Frequently Asked Questions
What if it doesn't work for me?
This is the simplest question of all. If by some chance it doesn't work…well, then it's free.
Seriously. No question asked.
That's just the way it works.
Let me just put it this way: I know the impact that Anabolic Cooking has had on me and my clients, and I know it's value. I'm confident that anyone who follows it will get results. Period.
And so I offer a completely awesome and totally bullet-proof 60 day guarantee for a refund. No tricks, no loopholes. No hard feelings.
What type of person are these recipes for?
It really doesn't matter what your starting point is, Anabolic Cooking will help you enjoy muscle building foods like never before and keep you on track with your nutrition.
When I first designed Anabolic Cooking, I had one single goal; to help other fellow fitness enthusiasts actually enjoy the foods they ate instead of just choking down tasteless broiled chicken breasts with plain brown rice! I knew how hard it was for bodybuilders and people looking to build muscle to find tasty recipes that fit in with their macronutrient ratios but also tasted great.
After getting myself ready for several bodybuilding competitions I learned just how hard that really was. So I know the frustration you are facing everyday trying to stay consistent in your nutrition but also satisfying cravings for delicious recipes. Traditional cookbooks don't address proper muscle building nutrition.
So if you want to finally get recipes designed to build muscle but also taste amazing then these cookbooks are for you!
Am I going to have to spend hours in the kitchen everyday?
Like you, I was busy and I knew that we definitely could not spend hour after hour cooking with such a busy schedule. I also realize that you are probably in the exact same position.
Life's busy and you need recipes that can be ready in minutes. So, I've taken that into serious account when designing these.
When using these cookbooks, you won't feel like you've just taken a part-time job as a chef in your very own kitchen but rather, you'll be in and out in minutes and have a delicious fat burning meal in front of you.
Plus, I'll also share some top secret tips for making the cooking and preparing process even faster so for those who are really short on time, you can still stick with your fat burning diet plan.
What is Anabolic Cooking and how will it help me burn more fat?
Anabolic Cooking is a series of cookbooks that have been designed specifically with maximum muscle gain in mind and rather than using tasteless boring foods that leave you don't want to eat, we're using delicious muscle building foods that supercharge your anabolic rate so that muscle gain progresses along much more quickly.
Most bodybuilders, fitness models or people who just want to put on muscle to look and feel better in their bodies usually end up eating chicken and rice over and over again which is extremely difficult and normally ends in quitting because it's too hard.
Our recipes are delicious and enjoyable which means you don't end up trying to choke down calories just to see some new muscle mass Eating high calories foods that build muscle (and fat) is easy but it's the wrong way!
You end up with more fat and you don't look better. Eating delicious foods that provide the nutrients you need IS the answer and that's what you get in Anabolic Cooking.
Is Anabolic Cooking for men,women… or both?
Regardless of your age, your gender, or your eating background, Anabolic Cooking can help you. Building muscle occurs very similar in everyone – while males and females will have slightly different processes in the body due to hormonal environments, building muscle requires the same thing: you need to expend more calories than you consume.
Our recipes take care of both sides of the equation because they not only taste great which will help you stay consistent in eating the foods you need to be eating but it also increases anabolic hormones in your body causing you to gain lean muscle when grouped with a solid training plan.
With both sides of the equation in place, it's like you're getting double the rate of gains and muscle recovery.
Am I going to have to buy fancy and hard to find ingredients to create my Anabolic recipes?
We understand that some of you may have limited access to certain foods based on where you live but I can assure you that each of the recipes uses commonly found foods that anyone should be able to find at their supermarket.
Everything is customizable as well so if you do want to try organic spices or gluten free versions of ingredients, be my guest! But the base ingredients work great by themselves and don't require any changes to them.
I don't know how to cook, is Anabolic Cooking still for me?
Guess what? Most of the people I know are in the same position. Many people don't know the first thing about cooking (apart from how to press 'Start' on the microwave) but that's fine because Anabolic Cooking is going to guide you.
Don't let that make you think you're going to be learning many intricate cooking strategies though. If you want that, you better check out your community college nearby for cooking courses they offer.
Instead, I'll go over some simple and fast cooking techniques that deliver high taste and good nutrition. I also include step-by-step directions so it's so incredibly easy to prepare our recipes, even a five year old could. They are practically 'screw-up' proof. It's one of the most frequent comments I get back from my clients and readers – they can't believe just how easy it was to prepare the meals.
I am more than 50 years old, will Anabolic Cooking still work for someone considerably older?
You bet! I love our 'wiser' clients because they often see great results and appreciate it the most out of anyone. Once you start realizing the health benefits these foods provide, you're not only going to look better, but you're really going to feel better each and every day.
You'll have more energy, you're skin will look healthier, and you'll have a renewed sense of self-confidence.
If you're over 50 your metabolism may have already started to decline, as it often does with age and muscle mass loss, so with these recipes, you have absolutely nothing to lose and literally everything to gain. If anyone could benefit from these recipes, it would be you!
Can these recipes REALLY help me gain muscle and get stronger?
You better believe it! So many people who workout and try to build muscle end up falling short because of their nutrition. If you don't take your nutrition seriously, you won't see results. Gaining muscle and getting stronger comes down to getting the right nutrients, calories and making sure your bodies is primed for growth.
Each of my recipes was designed to support muscle growth, muscle repair and recovery. And they taste amazing just to top it all off.
By enjoying the meals you eat, you will start to eat more and I promise if you support yourself with the right nutrition, you will see gains in strength in the gym.
These recipes are also designed so that you don't feel bloated or feel so full that you can't continue to eat the calories you need for building muscle. They are gentle on the stomach and made to support your gains.
Your metabolism will be hungry for more and go ahead and feed it because the recipes are made with foods that you should be eating.
Is it going to cost me an arm and a leg in groceries to prepare these fat burning recipes?
Times are tight, I get that too. Many people are looking for ways to cut back on their food budget but I firmly believe that cutting back on cost should not mean cutting back on nutrition.
In fact, when using these cookbooks you'll probably find you spend less each month on food than you did before. You won't be dining out because you'll look forward to these meals and all of the ingredients used to prepare them are so incredibly cost effective.
Plus, I've also included some money saving tips in the guide as well for those of you who need a little extra assistance in this area.
Pros:
Easy to follow recipes that just about anyone can prepare
Uses everyday ingredients that are easy to get at a local grocery store
Does not require special cooking skills
Will provide nutritional guidance on how to eat to build muscle
Is a realistic plan for even the most busy of individuals
Is priced at a very reasonable price
Comes with a full 60 day money back guarantee
Offers a wide variety of recipes so no matter what your taste preferences happen to be, you should enjoy these dishes
Cons:
May not work as well if you are a strict vegetarian
Does not provide any exercise advice, so you'll need a separate program for your workouts
Our Verdict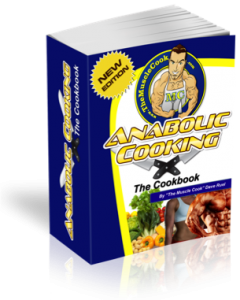 If you are someone who is struggling to stick with your nutrition plan, Anabolic Cooking is a fantastic recipe book and nutrition plan for those who want to build lean muscle mass without suffering from dietary boredom.
If the nutrition part of the equation is usually what you struggle with most, you will likely find great relief by using anabolic cooking with your workout protocol.
Once you try the recipes in this book, you'll ever again desire to go back to your unhealthy eating ways.
To sweeten up your purchase from us!
Email to us your purchase receipt to info@meanmuscles.com and we will personally send you this free eBook 'The Muscle Cook's 10 Most Anabolicious Recipes' by Dave Ruel as our token of appreciation!