Have you been on what feels like every diet under the sun only to find yourself constantly disappointed?
Are you someone who tends to cycle from gaining weight to losing weight to gaining more weight and so on only to find out that you always look the same?
Are you tired of it and ready for a change? If so, chances are, you're hunting down the various programs on the market designed to help you transform your body.
But which work and which don't? That is the question you may want to know. One very popular program you may come across is called Burn The Fat, Feed The Muscle, created by Tom Venuto.
How does this program stack up? Is it worth investing in? Let's uncover some facts you should consider.
Unlike some diet and exercise book authors who have always been fit and have never really had to go through an intense fat loss phase, Tom Venuto has been there.
He wasn't always the fit guy you see on the cover of his book. At one point in his life he was very overweight and in need of serious help with his health.
That's when he took it upon himself to learn the right way – which then led to this book.
Now, he has helped thousands of other people finally overcome their weight problems and see the results they are looking for.
What Burn The Fat, Feed The Muscle Is All About
This book is all about teaching you the right and wrong's of losing weight. With most diet plans, you go on the diet and may see some weight loss, but unfortunately it's primarily water and muscle mass loss.
This is NOT what you want. When you burn muscle on a weight loss diet, your metabolic rate goes down, making it very hard to sustain that weight loss and also decreasing how fit you look.
The idea behind this book is that you, as the name suggests, burn the fat, while feeding the muscle. This means that you change your body composition, not just lose weight. Those who just focus on weight loss often end up looking like a smaller version of their current self, so they really aren't making a miraculous transformation at all.
This book emphasizes the importance of both smart nutrition as well as exercise also, giving you the complete picture of what you need to be doing.
Who This Book Is Designed For
This book is designed for anyone who doesn't just want to lose weight, but who wants to make a full body transformation.
It's a program that is going to help you get from point A to point B without losing muscle and suffering from a slow and sluggish metabolic rate.
It's a plan for those who want to maximize their success and who care about more than just losing weight.
If you lose weight, you may look better and thinner, but if you want to look good naked and achieve better health, you need to lose fat, not muscle. This is a very important difference to note.
This program can be used by both men and women and thanks to it's easy to implement format, it can be used by those who also have a busy schedule as well.
When you purchase this program, you are going to get a seven-day transformation guide. Unlike some programs out there that deliver you a book full of 100+ pages of information you have to read, often which can take weeks at a time, this book is designed to be implemented in just seven short days.
Each day you'll learn a new step in the process so by the seventh day, you will be all ready to become. This book is ideal for those who want to take ACTION and begin immediately. If you are looking for an overabundance of overwhelming information, this is not for you.
If you instead want the exact details you need to know to get results so that you can get on with it, you will love how this program works.
In addition to that, you'll also receive his fat burning toolkit, which contains all the resources you'll need to see maximum results, his meal planning software, to ensure you can plan out your meals without a problem, his fat burning recipes so you never get bored while dieting, and his body fat testing system so you can measure and track your progress as you go.
Finally, you'll also get 6 months of free support to help you with your journey and free audio recordings in the members area to provide additional information to help you get maximum results.
Testimonials
"My Goal Was To Be a "Hot Mom At 40," And I've Achieved It. I lost 23 Kg's and 12.5% Body Fat!"

"I'm a 40 year old mom of 3, ages 11, 6 and 4. Before, I was 85 kg and 36.5% body fat, size 40. I was fat and miserable. My family life and relationship were suffering. My husband knew someone who did Burn The Fat and it changed his life, so I tried it too. I lost 23 kg's and kept it off ever since!"

– Bonnie VanNiekerk, Burn the Fat Client
"I Lost 137 Pounds! It Changed My Entire Life!"

"I used Tom's BURN THE FAT program to lose 137 pounds, but it also changed my entire life and the life of my family. The goal-setting and mindset part of the program also helped me achieve emotional, physical and financial goals I never thought possible.

– Mike Ogorek, Burn the Fat Client

"I shredded down to 4.3% body fat in 49 days"

"When I hit 30, I found myself with a belly for the first time in my life. I followed the Burn the Fat program and entered the 49 day Challenge; I had no idea how much it would change the whole rest of my life.

Staying in frequent contact with people in the Burn the Fat community, who were all heading in the same positive direction, made staying the course absolute. I will never have a belly again."

– James Mauck, Burn the Fat Client

"I Achieved The Body I've Always Wanted! I'm Now 128 lbs At 17.7% Body Fat!"

"I learned an AMAZING thing: I love the feeling in my muscles, I love the burn, and I love the progress. The more my muscles popped, the more addicted I became to the training.

Another thing stood out to me: Food is integral. Don't try to starve the fat. Fuel your body properly and it will perform better. It was like my body turned into a fat-burning, muscle-building machine."

– Amanda Andrews, Burn The Fat Client

"I burned off 8.1% body fat, dropped 23 pounds of body weight and cut 5.5 inches off my waist in 49 days"

"My advice to anyone thinking about doing Burn the Fat is to make a commitment to yourself in writing and list all the benefits you will receive as a result of reaching your goal."

Don't try to reinvent the wheel – the information and resources you need are right here, and the Burn the Fat community is amazing!"

– Gary Vollhoffer, Age 50, Burn the Fat Client

"Transformed my entire life!"

"I Lost 14 lbs, built some nice muscle, and went from a pant size 7/9 to a size 1! My husband and children can't thank Tom enough for his healthy, natural, clear-cut program.

If a home-schooling mom of five kids all under the age of eight can do it, anyone can!"

– Cynthia Cardenas, Burn the Fat Client
Frequently Asked Questions
Does the program work as well for women as men?
Yes, in fact our membership is now more female than male (53% women and 47% men in our last survey). Women have different needs and the program gives you the exact calculations for the female metabolism (there are separate calculations for men). The workout programs work equally well for men and women (women need muscle too, most women simply want muscle tone, not muscle bulk).
How can I be sure it's safe to order online from your website?
Our checkout page is on a secure server, we are a Verisign-trusted site (confirming our identity, location and virus-free status), we're A+ rated by the NJ Better Business Bureau and our Burn the Fat company has been trusted online since 2003 with a reputation for integrity.
Will this work for vegetarians?
The program is very easy to adapt for semi-vegetarians who eat dairy, eggs and or fish (no meat). The program was not designed specifically for vegans but can be adapted for vegans as well, as long as you're able to customize your own meal plans based on which foods you eat.
Do you really answer questions and give personal coaching on your site? How do you find the time?
Yes, I really answer your questions on the Burn the Fat private forums and I spend many hours doing it. I don't spend much time on social media, so I have more time for our members. However, I can't guarantee this forever. This program is new and once word spreads, and it gets super busy, I'll either have to cap membership, raise the price, or have Burn The Fat certified coaches take over for me. So if you're interested in getting personal advice straight from the program creator (me), now is the time to get onboard.
Do I have to take any supplements?
No. Most supplements are scams, some can be dangerous and the few that have scientific support have such a small effect, you would get more results just by doing a better job with your eating and training. You don't need any supplements to burn fat or build muscle and you'll never see ads or promotions for supplements in our members area (I don't endorse or sell supplements and never will).
Do I have to join a gym or buy any equipment?
You DO need some kind of resistance training because that's the key to revving up your metabolism, sculpting lean muscle and keeping the muscle you already have. But you don't need expensive machines and you don't have to join a gym – you can work out at home if you prefer. The beginner workouts can be done with nothing but free weights (like dumbbells) and your own body weight as resistance.
I just turned 54. Am I too old to start this program? Please be honest Tom
Honestly, you're too old NOT to get started. The science shows that college-age kids don't have to worry about hormone levels and muscle loss – getting in shape is easy for them. From your 30's to 40's and beyond, when hormones and metabolism start to change, if you don't eat the right food and get the right exercise, your muscles (and bone density) disintegrate faster with every passing year, while fat goes on easier.
Age 35-55 is our biggest member demographic and more people are joining us after 55 than ever because that age group is finally discovering how crash diets accelerate aging while training and feeding the muscle reverses aging.
I can't eat wheat or any products with gluten. Can I still follow the nutrition part of the Burn the Fat program?
Yes. Gluten intolerance is common and you can easily work around it. The food choices are flexible and substitutions are easy.
I'm lactose intolerant. Can I still do the Burn the Fat nutrition program?
Yes. Lactose intolerance is even more common and it's also easy to work around it. Dairy products are optional on this program.
Will this work in my country? I'm worried about not having the foods required where I live.
Yes. We have thousands of members in over 150 countries and you can adapt the food choices to work wherever you live.
Tom, just one last question before I order, can you confirm that there are no other charges or "hidden" costs beyond the $57?
Any applicable sales tax is added in the shopping cart. There are no other charges. There are no recurring dues. Any other products or special deals you ever see from me now or in the future are optional. There is only one payment of $57.00 and that includes my personal support for 6 months.
How do I log in to the member's area and how soon will I be able to start after I order?
Just click the "ADD TO CART" button below. You'll be directed to a secure order page. After you submit your payment details, you'll be forwarded to the new member registration page on the member's-only (Inner Circle) site, where you'll be asked to choose your private user name and password. You can then log in to the Burn The Fat members area and start just minutes from now. You get instant access to the member's area. Click the yellow ADD TO CART button below to get started.
Pros:
Is designed for those on the go who don't have time to read a length book about all the information related to diet and nutrition
Breaks things down in an easy-to-understand format
Can be used by both men and women
Can be used by those of all fitness levels
Does not require expensive supplements or a very fancy gym membership
Includes both nutrition and exercise information
Will help you lose fat, not just weight
You'll be left with a higher metabolism, ensuring weight loss maintenance is easier
Comes with a money back guarantee
Cons:
Does require both exercise and nutrition changes, so anyone using this program needs to be comfortable with that.
If you are looking for a solid product that contains valuable information in an easy-to-digest format, Burn The Fat, Feed The Muscle is for you.
This Seven Day Transformation program is an excellent choice to help you learn what's really needed to see great results without having to devote hours each week to exercise or meal planning.
The added bonuses will really help you put into action the plan, ensuring you can get started right away. With very few cons to speak of, anyone who is serious about putting in the effort should notice they make a great transformation while using this approach.
To sweeten up your purchase from us!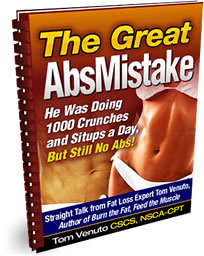 Email to us your purchase receipt to
info@meanmuscles.com
and we will personally send you this free eBook
'The Great Abs Mistake'
as our token of appreciation!"How do I get great abs" is still BY FAR the most frequently asked question. It's because abs are the one body part that most people are the most frustrated with.
This eBook will teach you how to avoid this common abs mistake and uncover the six pack underneath your belly fat.